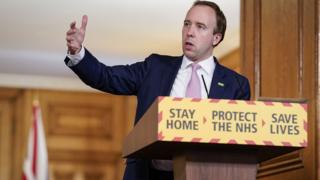 Close family members will be able to say goodbye to dying relatives in hospitals and care homes under new coronavirus guidelines, Health Secretary Matt Hancock has said.
He said the UK would introduce new steps to "limit the risk of infection" and allow goodbyes "wherever possible".
Mr Hancock also launched a new supply network to help get personal protective equipment (PPE) to care home staff.
It comes as the number of hospital deaths in the UK rose by 761 to 12,868.
Speaking at Wednesday's briefing, Mr Hancock said wanting to say goodbye to dying loved ones was "one of the deepest human instincts".
He said he wept at news reports when Ismail Mohamed Abdulwahab, 13, from Brixton, south London, died alone in hospital last month.
Ismail's close family were then unable to attend his funeral because they were self-isolating.
Announcing the new guidelines, Mr Hancock said: "I'm pleased to say that working with Public Health England, the care sector and many others, we are introducing new procedures so we can limit the risk of infection while, wherever possible, giving people's closest loved ones the chance to say goodbye."
Health Secretary Matt Hancock has made big play of the fact relatives are to be allowed to visit dying family in care homes.
This was already allowed under guidance issued on 2 April, but many care homes have blocked visiting because of concern about spread of the virus, partly fuelled by a lack of protective equipment.
The same applies to hospitals. It has meant many people with Covid-19 have died with no family or friends around them.
Just because a minister says it is allowed, it does not mean it will happen.
On the frontline, staff are under huge pressure and are reluctant to take risks.
The practicalities of the new guidelines have not been announced but further details could lie in the government's social care plan, expected to be published later.
Care providers been calling for more testing and PPE for weeks, amid outbreaks at more than 2,000 homes.
Earlier, the government promised to test care home residents and staff with Covid-19 symptoms as laboratory capacity increases.
At the news conference, Mr Hancock extended that promise to include anyone moving from hospital into social care.
He also announced the launch of a "badge of honour" to allow care workers to "proudly and publicly identify themselves" during the pandemic – in a bid to their boost public recognition of all those caring for people.
And he said supermarkets have been asked to ensure social care workers are given the same priority access as NHS staff.
In other developments: