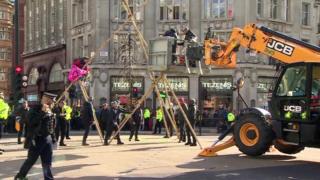 Police have cleared Extinction Rebellion protesters from Oxford Circus after the group defied a London-wide ban on their demonstrations.
A cherry picker removed demonstrators perched on a wooden pyramid structure built to block the junction.
It comes as five protesters were charged after rush hour protests at three Tube stations on Thursday.
On Monday police announced a ban on two or more people linked to Extinction Rebellion assembling in London.
The Extinction Rebellion London Twitter account said the junction, which was also occupied by the group for several days in April, was targeted because Oxford Street is a centre of fast fashion and is heavily polluted.
It also said the central London street was a "hub of luxury goods for the wealthiest", citing an Oxfam report from 2015 that claimed the richest 10% of people are responsible for half of all carbon emissions.
The blockade was part of a two-week series of protests, dubbed the Autumn Uprising, which are due to end on Saturday.
A spokesman for Extinction Rebellion said: "It's not about causing meaningless disruption. We have a vital message to bring – the consequences of the climate and ecological crisis are horrific."
Dozens of police officers were seen surrounding the demonstration and talking to protesters.
After about an hour, police began clearing the protesters away and specialist teams brought in the JCB.
The wooden structure was removed and the junction reopened at around 12:00 BST.
The protesters then moved to Whitehall, marching past government departments with their hands painted red.
"We will raise our red hands, taking responsibility for our actions – we all have blood on our hands," a post on their website reads.
Protesters were filmed singing outside the gates of Downing Street.
The procession is due to end with a speech in Parliament Square.
A public order ban has been put in place on Extinction Rebellion activities in London since Monday.
Extinction Rebellion challenged the ban but a High Court judge ruled that a judicial review into the police's move could not be heard until next week.
The group wanted a hearing before the scheduled end of the protests on 19 October.