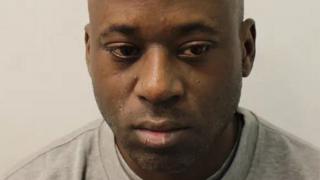 A violent offender who stabbed a mother pushing a baby in a pram days after he was released from prison has admitted attempted murder.
Mark Brazant attacked Josephine Conlon, 36, in Streatham Hill, south London, on 30 December last year.
The 44-year-old, who had been freed from jail on Christmas Eve, stabbed her seven times in the face and neck.
At the Old Bailey, Brazant, of Ealing, pleaded guilty to attempted murder. He will be sentenced on 16 September.
During a previous trial, he had denied meaning to seriously injure Mrs Conlon and the jury was discharged after failing to reach a verdict.
However, the prosecution called for a retrial and Brazant changed his plea on Thursday.
The original trial heard that Brazant, who has paranoid schizophrenia, had a history of attacking lone women for no reason and on 26 November carried out four assaults in one day.
He pleaded guilty to three charges of battery and one of common assault, but was released on licence from Thameside Prison to spend a year on post-sentence supervision.
But he was reported missing after he failed to turn up at a support house where he was meant to be staying.
Jurors were told that on 30 December he began to follow Mrs Conlon along Downton Avenue as she was walking home and then shoved her in the back.
She told the court she thought "he was going to rape me" but "then he didn't, he just started hitting me".
Mrs Conlon said she then realised she was being stabbed but "I managed to get up on my feet and that's when he turned and ran away".
On 2 January, Brazant walked into a police station holding a knife and said he had "stabbed a person on the street".
During the trial he denied he had intended to kill Mrs Conlon and said he had been hearing voices telling him to hurt someone.
Brazant entered his guilty plea via video link from Three Bridges medium secure hospital.
He was remanded in custody ahead of his sentencing next month.